Left Column Content
Latest Kinniku News!
---
Welcome!
Remember these guys? Of course, we all do. They were M.U.S.C.L.E.'s. Millions of unusual small creatures lurking everywhere. They were awesome, outrageous and totally cool! But did you know that they were spawned from a very popular Japanese toyline called Kinnikuman? Yes Kinnikuman was such a hit in Japan, that Bandai, decided to give it a go here in the States and released them via Mattel. The only problem was that they imported the toys only, and none of the storyline. So if you've ever sat back and wondered what the deal was with these little guys, well you've found the right site.
Latest Kinniku News!
What is this Sunshine Keshi?
09/09/19



I just grabbed a mystery Sunshine kinkeshi at an annual gathering of Japanese robot/toy collectors. (the one in the pics with his hands in the air like he just don't care) I thought the only Sunshine sculpt that wasn't released as a M.U.S.C.L.E. was the so called Black Hole Sunshine, but I have never seen this one before.

 

I looked through all 400+ original kinkeshi and any other series I could find on an Italian site. I didn't find this guy, but I don't know how many other series there are.

 

In the pictures, the Arch, the Claw and the BHS are keshi. The #3 is a M.U.S.C.L.E. and the other one is the new gashapon series. I tried to use two different light sources or color comparison.

 

It has the Y/S N T stamped on the back like the other keshi.

 

Can anyone shed some light on where it came from? Any info is appreciated.

 

Thank you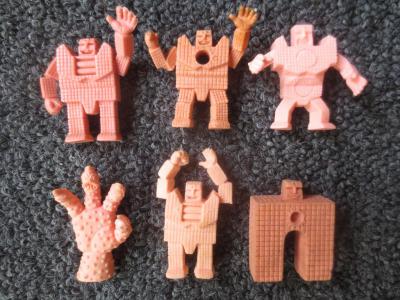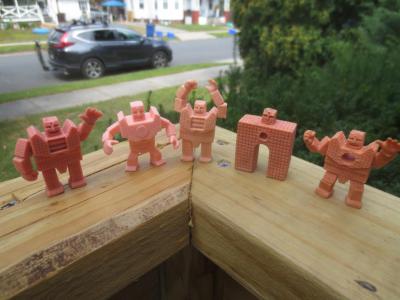 Join the discussion!
Help Muscle Men
07/22/19

I'm looking for someone to help me figure out if I've got any muscle men or are these fakes...

Join the discussion!
Kinnikuman "Chojin" Picture Book
07/13/19



Hey guys, has anyone picked up this book? Looks like a complete Chojin encyclopedia that came out in May. It's Japanese, but worth it alone for the art.

 

I've just ordered the limed cover version for 3000 yen off Mandarake!!

 
http://www.cdjapan.co.jp/product/NEOBK-2345104?s_ssid=e455c45d299bd9d9b4
http://www.cdjapan.co.jp/product/NEOBK-2345105?s_ssid=e455c45d299bd9d9b4
Join the discussion!
Erasers?
05/17/19

I remember when I was collecting m.u.s.c.l.e. as a kid, people would often describe them as erasers. Do the original kinkeshi actually erase?

Join the discussion!
Small booklets inside the Kinnikuman Kinkeshi box set
01/18/19



I just got the Kinnikuman Kenkeshi Box off eBay and it came with a larger book, but it's missing the other small books/papers that i've seen shown in other pictures of the set. Has anyone scanned them, or have more info on what they are. I'd be interested in seeing what i'm missing in more detail. Thanks in advance!



Join the discussion!
Anyone have a high res image of this group photo?
01/02/19



I'm wondering if anyone happens to have a high resolution image of the Kinnikuman group photo shown in this magazine? I was hoping to find one that is good enough quality to print.

 

Thanks for the help!



Join the discussion!
Does this character have a name?
10/31/18



Hey guys! Just recently started watching through old Kinnikuman episodes. Wondering if this guy has a name...?

Thanks!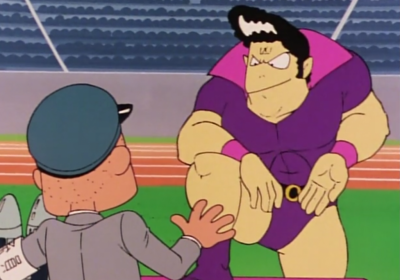 Join the discussion!
Looking For Kinkeshi Flesh Reprints from 418 set
10/02/18

Recently I was able to purchase around 36 Kinkeshi Flesh Reprints from the big red 418 box set. I got them for a really good price because my Professor did not actually collect them and just used them for a project in my college class (we each got a Kinkeshi and had to remake and 3d print them). I was the only student who really got interested in them and hence lead to me buying some of my favorites from him after a huge amount of research. Although, some characters were missing because students simply stole them and never turned them back in. I could get other colors or versions of the few Kinkeshi I want but they are too big or not the right colors and look off since all the others in my display case match. I know it is a long shot and I don't know if this is the right place to post this but I wanted to ask the community if they could help sell me extra flesh reprints from the 418 set. Thank you very much for any help at all, I really appreciate it all.

I don't happen to know the numbers of each so I will try to be descriptive.

Kinkeshi I am Looking For:
1. Omegaman
2. Planetman -Vulcan Wakusei Barukan Varriant?
3. Original Kinnikuman Soldier (I could not find it so had to grab a shirtless varriant instead)
4. Kinkotsuman
5. Iwao
6. Kinnikuman w/ Gyudan
7. Meat

Join the discussion!
Kinnikuman Bunko/Tankobon
09/26/18



Hello guys,

 

I was wondering if anyone here has ever compared the different releases of the original Kinnikuman manga? I've included some pictures I've found on the net of three different versions, I was just wondering if one is better than the the other or if it really even matters.

 

Thanks! 

 



Join the discussion!
The role of Moai Man and Tail Lamp?
08/11/18



I'm a little rusty on my Kinnikuman anime knowledge...It's been a long time since I watched any episodes/read the lore...Can anyone here tell me what role (if any) Moai Man and Tail Lamp aka light bulb guy had in the Kinnikuman anime/Universe?



Join the discussion!
Right Column Content
A.K.I.A. Affiliate Sites
---
Nathan's

M.U.S.C.L.E. Blog
---
University of

M.U.S.C.L.E.
---
Soupie's

M.U.S.C.L.E. Color Image Archive
---

---
Naochin's

Kinkeshi Archive!
---
Sponsors
---
Help support Kinnikuman.com