Left Column Content
Latest Kinniku News!
---
Welcome!
Remember these guys? Of course, we all do. They were M.U.S.C.L.E.'s. Millions of unusual small creatures lurking everywhere. They were awesome, outrageous and totally cool! But did you know that they were spawned from a very popular Japanese toyline called Kinnikuman? Yes Kinnikuman was such a hit in Japan, that Bandai, decided to give it a go here in the States and released them via Mattel. The only problem was that they imported the toys only, and none of the storyline. So if you've ever sat back and wondered what the deal was with these little guys, well you've found the right site.
Latest Kinniku News!
Showcase #65: Animax Shop 29th Anniversary Limited Display Case
03/22/18



Showcase #65: Animax Shop 29th Anniversary Limited Display Case

 

I recently acquired this display case, in 2008 the 29th anniversary Kinnikuman DVD set was released. The release had some special tie-in promotions upon its release.

 

According to the listing on yahoojapan this came from the Animax Shop but what I dont know is if it was a pre-order promotion or if this was the actual store display of the re-release Kinkeshi sculpts (which I just recently sold!).

 

This was the listing: https://page.auctions.yahoo.co.jp/jp/auction/x525606406

 

For 7,471 yen I thought it was an interesting piece of Kinnikuman history to own.

 

I was concerned it would get damaged while being shipped but luckily it was not.

 

The thing is bigger than I thought and gorgeous! It has a door latch that you can open but there is no way the Kinkeshi can stand on their own without falling (haha).

 

I might have some left over acrylic shelves pieces that could fit those same dimensions, then I could put some double sided tape and have the Kinkeshi stand perfectly.

 

I might use this to display the creme de la creme Kinkeshi in my collection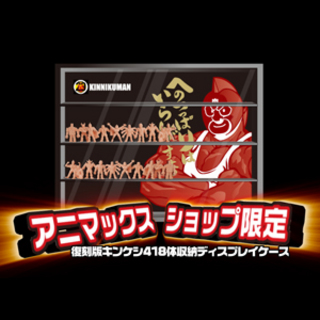 Join the discussion!
Smaller red authentic? And color variations.
03/22/18



I'm getting the impression that a lot of red (though a very orangish red) kinkeshi end up casting smaller or undergo some shrinkage.

 

Looking at red ones, from three different people or lots, several are a little smaller than the MUSCLE or other color kinkeshi of the same figures, but still larger than the 29th anniversary reissue.   They seem legit as the Y/S NT on the back is perfectly clear.   Also a Kinnikuman Soldier (A) is oddly stiff for vintage kinkeshi, especially his right arm.

 

Also how many official colors do they come in, not counting odd special clear ones?

 

It seems the standard are flesh, red, blue, yellow, green.

So are more salmonish or light orange ones just faded red?  And therefore safe to keep together?

I have a very light keyman that I just think is an extremely faded flesh.

Most mysterious is a very beige or taupe color Skyman, that's darker than flesh and substantially different from any yellow.

Smaller darker yellow, certain orange, and certain blue ones seem to be obvious bootlegs even if the Y/S NT is clear.



Join the discussion!
Showcase #64: "The Sweet 16" Super Rare Kinkeshi
03/10/18



Showcase #64: "The Sweet 16" Super Rare Kinkeshi

 

Besides the vintage 418 Kinkeshi collection & Part 30 sculpts, amongst collectors the Super Rare Kinkeshi are "Holy Grails" of sorts. For "Holy Grails" or "Super rares" they sure are readily available but the problem is the price.

 

In the collection you have sixteen (not counting the 2 Super "Super Rares" haha) total and you can find some of the sculpts in almost every Mandarake branch in Japan & online (Mandarake or Yahoojapan).

 

These "Super Rare" Kinkeshi have no markings whatsover and some eventually became real characters in the Kinnikuman manga. Their existence is due to theree things:

 

1-Thanks to Weekly Shonen Jump

 

2-The readers of Kinnikuman

 

3-Bootleggers!

 

*Some of the information I got from Nama Niku:

 

In 1984 Weekly Shonen Jump and Kinnikuman creators Yudetamago had a contest in which the readers of Jump could create a new character for the Kinnikuman manga.

 

In the process many characters made the final run or "top sixteen" list (rough sketches shown in Weekly Shonen Jump).

 

Leave it to those bootleggers to sculpt those fan creations and release them in gashapon capsule form! (Pachi versions).

 

Even before they made official debuts in the manga!

 

What is not known is how many made it to circulation or which regions of Japan etc

 

As a result they have become the thing of legends and myths! especially in terms of value and scarcity for some particular colors or sculpts.

 

Getting any of the sixteen is an investment and you might get lucky on yahoojapan on a sleeper auction but most of them sell for upwards of 30,000 to 300,000 yen!!! (depending on the sculpt)

 

I only own two of the sixteen and even if I wante to collect all sixteen finding some of them is really difficult; the most common to find but not any less cheap being Train Man, MR. VTR & The Hawkman.



Join the discussion!
Harder Plastic in Recent Bandai Kinkeshi Gashapon Figures?
03/02/18



I just purchased two figures from Vol. 4 of Bandai's recent Kinkeshi Gashapon toys - Omegaman and Silverman - and was SHOCKED to discover that they're made of harder plastic! They feel very much like M.U.S.C.L.E. figures.

 

So please help me! Which Kinkeshi series use this harder plastic? Is it standard now?

 

Every Kinkeshi figure I've ever owned, from the '80s or later years, has been made of the typical eraser-like, softer rubber. Honestly, I've always wished they were more durable and sturdier like Mattel's figures. So this discovery blew my mind and made me really happy. I'd love to buy more Kinkeshi that are made in this manner.



Join the discussion!
Was the Manga ever released in the States?
02/25/18

I'd be interested in reading the original Manga. Was it ever translated and released in the states? How many volumes were there?

Join the discussion!
Showcase #63: Part 20 Kinnikuman Gashapon Capsules
02/22/18



Showcase #63: Part 20 Kinnikuman Gashapon Capsules

 

I already owned a vintage Gashapon machine with a Part 21 Daishi which I showcased: http://www.littlerubberguys.com/forums/index.php?showtopic=258726

 

That machine came with capsules (mostly original reissue capsules from the 2008/29th Anniversary Kinkeshi release + some vintage capsules too).

 

So I always loved the idea of either...

 

1-Filling up that Gashapon machine with actual vintage Part 21 capsules.

 

2-Owning 30 vintage capsules from each respective part.

 

I came across a Lot of over 100 vintage Gashapon capsules that I could not pass up!

 

They mostly belonged to Part 20 + some capsules from other Parts too.

 

Some crazy Kinkeshi capsule melting on some!

 

I own an original Part 20 Daishi (backing board) so I decided to switch the Part 21 Daishi with it and placed the vintage Capsules inside.

 

The Lot also helped me get to 16 total vintage capsules of the original 30 Parts.

 

I am missing 14 more capsules/Parts along with a couple of Daishi, that would truly give me a complete collection!

 

 

 

 

 

 

 



Join the discussion!
Showcase #62: Kinnikuman Crystal Senshi 28 Packs
02/08/18



Showcase #62: Kinnikuman Crystal Senshi 28 Packs

 

 

Along with the classic Kinkeshi 28 Packs (11 Packs total) 2 Crystal Keshi packs were released as well. Each containing Blue & Green Crystal Kinkeshi (which they called Senshi).

 

Yesterday I was finally able to complete my collection by acquiring volume 1 (minus the box unfortunately).

 

I have a mint volume 2 and I looked for Vol 1 but I only saw it once (tried bidding on it on yahoo japan but the price went over 300 EUR so I tapped out LOL).

 

They are made of a different material unlike the vintage rubber Kinkeshi but still rubbery. These sets are quite expensive.

 

Unfortunately they never made all 418 in Crystal Senshi form but besides the 56 Senshi, I also have some sculpts from Part 26 & sculpts not released in the boxes.

 

 

Volume 1

 

 

 

 

 



Join the discussion!
Showcase #61: Tatakae! Ramenman Japanese DVD Set
02/07/18



Showcase #61: Tatakae!! Ramenman Japanese DVD Set

 

If you are a fan of 1980's anime or even animes like Saint Seiya or Fist of The North Star, the Ramenman anime might be for you. It is in that vein and style, my favorite part is the soundtrack and was more serious in tone than the first Kinnikuman episodes.

 

The anime consisted of 35 episodes & aired for one year in Japan (January to September 1988).

 

Just listen to the opening theme sung by Junichiro Oda (輝け!ラーメンマン, Shine! Ramenman):

 

 

The DVD was released in March of 2009 and had a price tag of 35,000 yen (circa $320!!! Japan being notorious for expensive DVD releases). The set included the 35 episodes (6 DVDs), episode guide & 2 exclusive Kinkeshi releases not available anywhere else.

 

This pops up on occasion online (yahoojapan) but it can be bought and is currently available at Mandarake for 15,000 yen (circa $137): https://order.mandarake.co.jp/order/detailPage/item?itemCode=1072042529&ref=list

 

I have not taken out my Kinkeshi from the package but plan on doing that when I collect more of the Ramenman Keshigomu releases.

 

 

The DVD release is unfortunately only in Japanese but one can find the anime with English subs online; besides Buffalo Man I think Ramenman is one of the most recognizable Kinnikuman characters (a big part being the anime and manga release).

 

 

 

 

 



Join the discussion!
Showcase #60: Kinkeshi Acrylic Display
02/07/18



Showcase #60: Kinkeshi Acrylic Display

 

I arrived from work thinking my deliveries or mail had arrived already...but in Germany we have the regular German Post Office, DHL & DHL Express.

 

All 3 have different delivery times!

 

Tonight I arrived after 7:00pm from teaching and I had another package from Japan waiting for me via DHL Express (since I had the package shipped via EMS).

 

For the 60th showcase I wanted to showcase an acrylic display that has some connection/history to Kinnikuman. At least to me since I started collecting Kinkeshi in 2015/2016.

 

Many members have been helpful in directing me to Japanese sites for checklists and also by researching using the old Google machine, I have discovered some awesome things online.

 

I am especially fond of Kinkeshi collection pictures, I dont have an instagram account but luckily I can lurk and look at better collections than mine (Nama Nikus for example!).

 

I also like to see how people display collections.

 

One of the main Japanese websites for Kinnikuman Kinkeshi information is this one: http://www.din.or.jp/~katsumix/premia/index.html

 

What is this dudes name? He is no longer active or updates the site, eventually this is going away sadly...

 

While searching the site I bumped into this: http://www.din.or.jp/~katsumix/premia/kin_case.html

 

It blew my freaking mind!

 

Translation using Google:

 

"I ordered an acrylic case with an extinguishing flap.

I felt like I was going to make permanent preservation of the collection of skins, I faxed my drawing to the acrylic trader with a light feeling, I tried to estimate, but the cost is 25,000 yen per person! But I asked for two (explosion). Acrylic work is expensive .... However, as it is high, transparency is also preeminent, it is exhilarating to have it decorated in the room (laugh).

Acrylic case with 10 × 10 partitions.
In this case one hundred kinks can be stored (exhibited?).
According to the size of the kin eraser, the width and height are about 5 cm, the depth is 2.5 cm, with a removable lid on the front."

 

Naturally I wanted one for myself but didn't really know a starting point...until I did my usual weekly yahoojapan searches (sometimes daily).

 

I found a listing by pure happenstance in the beginning of January (the listing was not really labeled Kinkeshi or Kinnikuman) and I almost wonder if it came from the dude that created that website?

 

I would love to imagine this is true; purely for the Kinkeshi "Brother-In-Arms" connection

It looks exactly the same and it has the flap as well.
I won the auction for 1,100 yen (circa 8.45 EUR!!!)
Unfortunately one of the bottom squares cracked while shipping but I "fixed" it using crazy glue (I never get insurance!)
yahoojapan listing: https://page.auctions.yahoo.co.jp/jp/auction/p588327687
I can fit 100 Kinkeshi in the acrylic display (#319 to #418); I decided to place the last 100 Kinkeshi from my 2nd vintage 418 set (of which I am only missing 4 more to complete).
I tried filling them in Green (since I have the most of this particular color besides Flesh). For many the last 100 Kinkeshi are probably the most difficult and expensive to complete/acquire.
Now I am trying to figure out a place to put the acrylic display!
Join the discussion!
Showcase #59: Kinnikuman Kinkeshi Part 04 2018
02/06/18



Showcase #59: Kinnikuman Kinkeshi Part 04 2018

 

Released last month (January) in Japan, this is the fourth installment of Gashapon Kinkeshi releases.

 

Like Part 2 & Part 3, they decided to add two more painted versions of two sculpts as "chasers".

 

Except the color version of Kinnikuman Phoenix is really becoming difficult to get and as a result selling for some insane prices!

 

I dont know why this particular "chase" figure is so difficult to get in the gashapon releases; hence why my set is incomplete.

 

With these sculpts and the ones from 2017, we now have 158 new Kinkeshi total!!!!

 

With a total of 19 figures (22 if you count the tag teams separately) in Flesh, Red, Blue & 2 colored figures.

 

For Part 4 they decided to do the tower combos (seen in the past but the new sculpts look pretty awesome).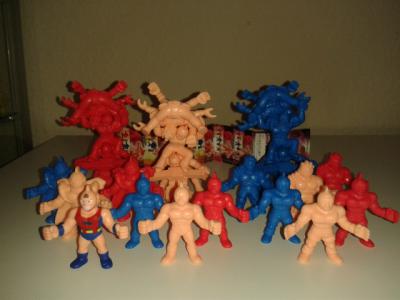 Join the discussion!
Right Column Content
A.K.I.A. Affiliate Sites
---
Nathan's

M.U.S.C.L.E. Blog
---
University of

M.U.S.C.L.E.
---
Soupie's

M.U.S.C.L.E. Color Image Archive
---

---
Naochin's

Kinkeshi Archive!
---
Sponsors
---
Help support Kinnikuman.com